Choosing the right yoga mat can be confusing, particularly for a beginner. Once you start looking into buying a yoga mat, you will find thousands of options.
Picking the right yoga mat for a beginner depends on the type of yoga you are going to do and where you will be doing it. Most of us stop at the cost, so today, we'll take a look behind the price tag.
In this article, we'll look at each of these in more detail. By the end, you should have a clear idea about the best yoga mat for your practice.
---
How to Choose a Yoga Mat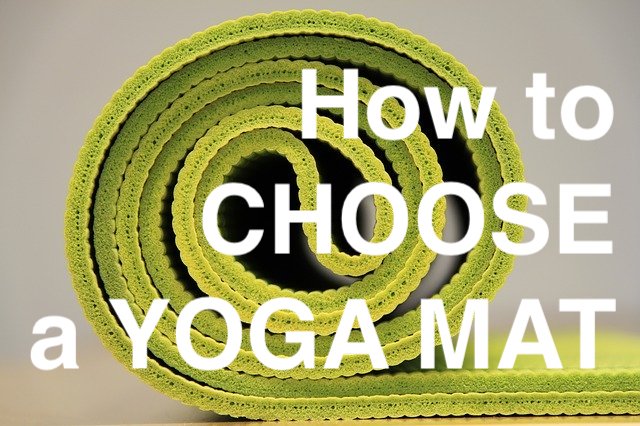 To choose the yoga mat for your yoga practice you need to consider the type of yoga you are going to do and where you will do it. You should be comfortable on a yoga mat. When it comes to the yoga mat features, 4 things to consider are yoga mat material, thickness, size and design.
---
Why Choose a Yoga Mat?
At first glance, it may seem like a strange question. After all, for a newbie, a yoga mat looks like a rubber rag to throw on the floor. So why should it matter the material, size, thickness and what's printed on it?
When you will bring yoga into your life, you will be spending a lot of time on your yoga mat. So, the happier you are with the look and feel of your yoga mat, the more often you will want to practice yoga. The more you practice yoga, the greater the benefits.
The type of yoga mat will depend on what kind of yoga you are planning to do and where you are going to do it. For outdoor practice, you will need something durable and easy to clean.
For a yoga session on a stony beach, look for a yoga mat with more cushioning. The thickest yoga mat I could find from natural material is a 6mm cork/natural rubber yoga mat. For a yoga session in the park, a cotton yoga mat is easy to clean.
To get the postures right, you could get an alignment yoga mat with special markings. The popular yoga mat is Liforme Original Yoga Mat.
During yoga, you are likely to be barefoot and wear light clothing. So to keep you warm on a cold floor you need to consider the material and thickness of your yoga mat. Aside from insulation, you also want your yoga mat to be comfortable and have a good grip.
You may also want a yoga mat that is made from natural, non-toxic material from sustainable and environment-friendly sources.
---
What to Look For When Choosing a Yoga Mat
The right yoga mat has to serve its purpose, align with your values and offer a degree of convenience. If you are taller, choose a longer yoga mat; if your joints give you trouble, choose a thicker yoga mat of 6-10mm; and if you will practice in the park or on the sand, choose a cotton yoga mat that's easy to wash.
Practically, a yoga mat needs to be:
Made of a durable material
Easy to clean/wash
Comfortable
Non-slippery/have a good grip
Big enough for you to lay on and move around
A good insulator from the cold floor
To align with your values a yoga mat can be:
Made from a natural material
Made from recycled material
Recyclable
Biodegradable
Other yoga mat options include:
Colourful designs
Symbolic drawings (e.g. chakras, mandalas, etc.)
Personalised print (e.g. your name, affirmations, quotes, yoga poses and sequences)
Alignment markings
If you tend to sweat a lot or are planning to do a Hot Yoga class, you will need a yoga mat that has the most grip.
A calmer yoga, like Yin Yoga or Kundalini Yoga, involves a lot more sitting and laying down. To do them in comfort, you will need something softer and more insulating.
Tip: When the yoga mat gets wet it loses its grip. This is more true for synthetic yoga mats. Natural yoga mats made from cotton and cork gain more grip when wet.
Let's take a look at your options in choosing a yoga mat material…
---
How to Choose a Yoga Mat Material
Choose the yoga mat material that's comfortable and will keep you warm on the cold floor. Cork and natural rubber yoga mat have a good grip on both sides when it gets wet. If you are planning to practice yoga in the park choose a material like cotton, so your outdoors yoga mat is easy to wash.
If you are planning to walk or to jog to your place of practice, a lightweight yoga mat might be better. It folds well and is easy to carry. If you are driving or practising at home then you can prioritise your comfort with a bigger or heavier yoga mat.
With a wide range of yoga mats materials available, you can take your pick. The common materials for yoga mats are PVC, TPE, NBR, EVA, Cork and Natural Latex. They tend to be more comfortable for the skin, while fabric yoga mats like Cotton, Jute and Wool can be a bit more coarse.
One thing to keep in mind is that PVC, TPE, NBR, EVA and Natural Latex yoga mats contain one type of material. Whereas yoga mats made from Jute or Cork sometimes have 2 different materials – one for each side. So while the top part can be from a natural material, the bottom part is synthetic. This is to provide a good grip and insulation. You can get pure Jute or Cotton yoga mats.
We advocate for environmentally-friendly yoga mats. These are non-toxic yoga mats from natural material and sustainable sources. Some yoga mats are recyclable or made from recycled material. To learn more about different yoga mat materials here's an article that will help choose the right one for you. For our detailed review of yoga mat materials with pros and cons, see this article.
Tip: If you are going to practice Kundalini Yoga, consider a yoga mat made of wool. In Kundalini Yoga you are working with an electromagnetic field of your body. A wool yoga mat will isolate you from surrounding electromagnetic fields.
I came across this video that has a quick comparison of the top 10 yoga mats.
---
How to Choose a Yoga Mat Thickness
What is the best thickness for a yoga mat? And why is it important to choose the right one?
The optimal yoga mat thickness strikes a balance between comfort, insulation and transportation.
Yoga mat thickness varies from 1.5mm to 10mm. Travel yoga mats of 1.5 mm can be folded and are perfect to take with you on a trip. Standard thickness yoga mats are 3-5 mm and are ideal for doing yoga at home or in a studio. Yoga mat thickness of 6-10 mm may be your choice if you have joint aches or considering doing yoga on a stony beach.
Thicker yoga mats tend to be softer and more comfortable for sitting, laying or doing kneeling poses. Yoga mats that are 6-10mm provide more cushioning for your joints and better insulation. The thickness of a yoga mat complements the material. So a cheaper thick yoga mat may not be as cushy as a more expensive good quality one.
The right yoga mat also depends on the type or style of yoga that you choose. Ashtanga, Vinyasa, Power yoga and Hot yoga are more intense and will make you sweat. So you want to make sure that when your new yoga mat gets wet, you won't slip away onto your neighbour's yoga mat.
Restorative yoga, Yin yoga and Kundalini yoga are more relaxing. You'll be spending way more time sitting or laying down. So make sure you are comfy on a thicker mat.
The downside of thicker yoga mats is that they are bulkier. So they will need more room in your storage area and will be less comfortable to carry around.
---
How to Choose a Yoga Mat Size
When doing yoga, you will be doing different poses and transitions. Choose a yoga mat that is right for your height and the type of yoga you are planning to do. For some yoga sequences, you will need more room to move around, without coming off the mat. Choose a yoga mat that's long enough for you in a lying down pose.
During Shavasana (laying down pose) for example, you will stretch out on your back with your arms by the sides of your body. So if your yoga mat is shorter than your body, your head and feet will end up on the floor. And if the yoga mat is too narrow – it'll be your arms. Trust me, the last thing you want while relaxing after a work out is to have any part of your body touching the cold floor.
Here's another reason to get a mat that is big enough. As you go through your poses, you may not always return to your starting position. You may start at one end of the yoga mat and then move into a different pose that will take you to the other end of the mat.
In this case, you want a yoga mat that is long enough for you to move without you ending up on the floor. If your yoga mat isn't long enough, you will find yourself having to adjust your position to remain on the mat. This isn't ideal because it will distract you from enjoying your yoga flow.
Most yoga mats are rectangular with standard dimensions of 68 in (173 cm) x 24 in (61cm). If you are taller, longer yoga mat options are also available from quite a few manufacturers. You can also opt-in for a round yoga mat (my personal favourite) to move around in all directions and remain on the mat. If you have kids, smaller yoga mats with fun designs are also available to you.
Examples of yoga mats in larger sizes:
Note: Our yoga mat review article goes in more detail of our favourite eco-friendly versions.
Yoga Accessories Yoga Mat is 36 in (91 cm) x 85 in (216 cm)
---
How to Choose a Yoga Mat Design
You can find yoga mats in a variety of designs. They come in different shapes, colours and prints. Yoga mats designs can be aesthetic and even practical. A yoga mat can be round or rectangular and you can pick a yoga mat colour when placing an order. Some sellers will allow you to print your name or choose an affirmation.
Some yoga mats have posture sequences and others have grid lines to help you get into correct postural alignment or keep track of your progress.
As a beginner, a printed sequence of poses can be your reminder of what to do next. A printed affirmation will come to your mind every time you face the mat. A printed name is nice personalisation, so it doesn't get mixed with other yoga mats in your class. A mandala, chakra or other symbolic prints can strengthen your focus if you strongly believe in their meaning.
My personal favourites are the alignment mats. Sure, they may not be as exciting and colourful, but they are very useful, particularly for beginners.
Here are some cool yoga mat design options for cat lovers and spiritual yoga enthusiast.
---
How to Choose a Yoga Mat Bag or a Yoga Mat Carrier
Once you've settled on getting the right yoga mat for yourself, you'll need to carry it around.
In most cases, you will roll up your yoga mat to carry it around. Except for travelling yoga mats that are very thin, so you can fold them.
To keep a yoga mat tidy and stop it from rolling out, you have 2 options: a yoga mat bag and a yoga mat carrier.
Yoga mat bags are of two types: hand-carried and over the shoulder. They come in a variety of colours, design and material. Yoga mat bags can be cotton, polyester, linen or nylon. And some are waterproof.
Yoga mat carriers are straps made of cotton and elastic. They can also be synthetic. You can use some yoga mat carrier straps as props to help you stretch.
Sometimes when you buy a yoga mat, it comes with a bag. But if it doesn't, then you can choose the one you like.
Tip: When you buy a yoga mat bag separate from your yoga mat, make sure it's the correct size.
---
Conclusion
Choosing a yoga mat is about striking a balance between practicality and aesthetics.
There are a few for you to consider when choosing a yoga mat. With a great variety in material, size and design it depends on what's important for you and your yoga practice.
Your ethical values can influence your choice of a yoga mat. For example, you may choose a natural, biodegradable, recyclable mat from sustainable sources. This usually comes with a more expensive price tag. Cheaper yoga mats tend to be from synthetic materials that destroy our environment.
The practical aspect of choosing the right yoga mat will depend on the type or style of yoga you are going to do. For a more active type of yoga, you may need a yoga mat with the best grip, so you don't slip on your sweat.
With a less active style of yoga, you'd be more comfortable to relax on a thick cushy yoga mat. So you can let yourself go into a deep meditation or have a nap.
Whatever your preference, there's a mat for you…
---
How to Choose the Right Yoga Mat for a Beginner
Decide which yoga type or style you are going to do.
For a more active type of yoga consider a yoga mat with the most grip. For a more relaxing yoga practice choose a yoga mat with the most cushioning.
Choose a yoga mat material.
The materials used for yoga mats are plastics, rubber, jute, cotton and cork. Some yoga mat materials are more eco-friendly than others and are on a more expensive side. A lot of yoga mats are made from 2 types of materials – one for each side.
Choose a yoga mat size.
For most people, the standard size of a yoga mat is big enough. If you are on a taller side, go for a yoga mat that's slightly taller than your height. Yoga mat width should be somewhat bigger than your shoulders.
Choose a yoga mat design
Yoga mat designs vary in shape and colour. Standard yoga mats are rectangular, but some have rounded edges and others are completely round. The print on top of a yoga mat can be esthetic (beautifully coloured), decorative (chakras or mandalas), personalised (your name or affirmations) or practical (alignment guide-lines and posture sequences).
---
Frequently Asked Questions
When choosing a yoga mat consider these:
Where you will practice yoga: home, studio, gym, beach, park…
What style of yoga are you planning to do: slow/relaxing or hard/intense
How to choose a yoga mat size?
Your yoga mat needs to be big enough for you to lay on and move around without touching the cold floor. The yoga mat should be longer than your height and wider than your shoulder.
How to choose a yoga mat material?
Yoga mats come in several types of material. Some are eco-friendly and others are not so much. Most yoga mats are made of a combination of materials: one for each side. Eco-friendly yoga mats cost a bit more.
How to choose a yoga mat thickness?
Standard yoga mat thickness is 3 – 5mm. Travel yoga mats are 1.5mm. You can also get yoga mats of 6mm and even 10mm, but the eco-friendly versions are harder to find. Thicker yoga mats are better if you are planning to practice on the stony beach or if your joints tend to complain.
How to choose yoga mat design?
You may have come across yoga mats that have different prints of mandalas, chakras and other colourful designs. Some sellers let you print your name and others have a variety of affirmations to choose from. But did you know that you can also get an alignment yoga mat? These are yoga mats with guide-lines to help you get the correct alignment for your yoga poses.
---